Parish Council Noticeboard
Please note that WCC has issued an emergency road closure notice for D6573 Blackwell Road, Tredington from Thursday 4th December to allow necessary expedient repair work to the verges. Pedestrian access will be maintained at all times. For fruther information, contact Kevin Nugent, County Highways 01926 412515.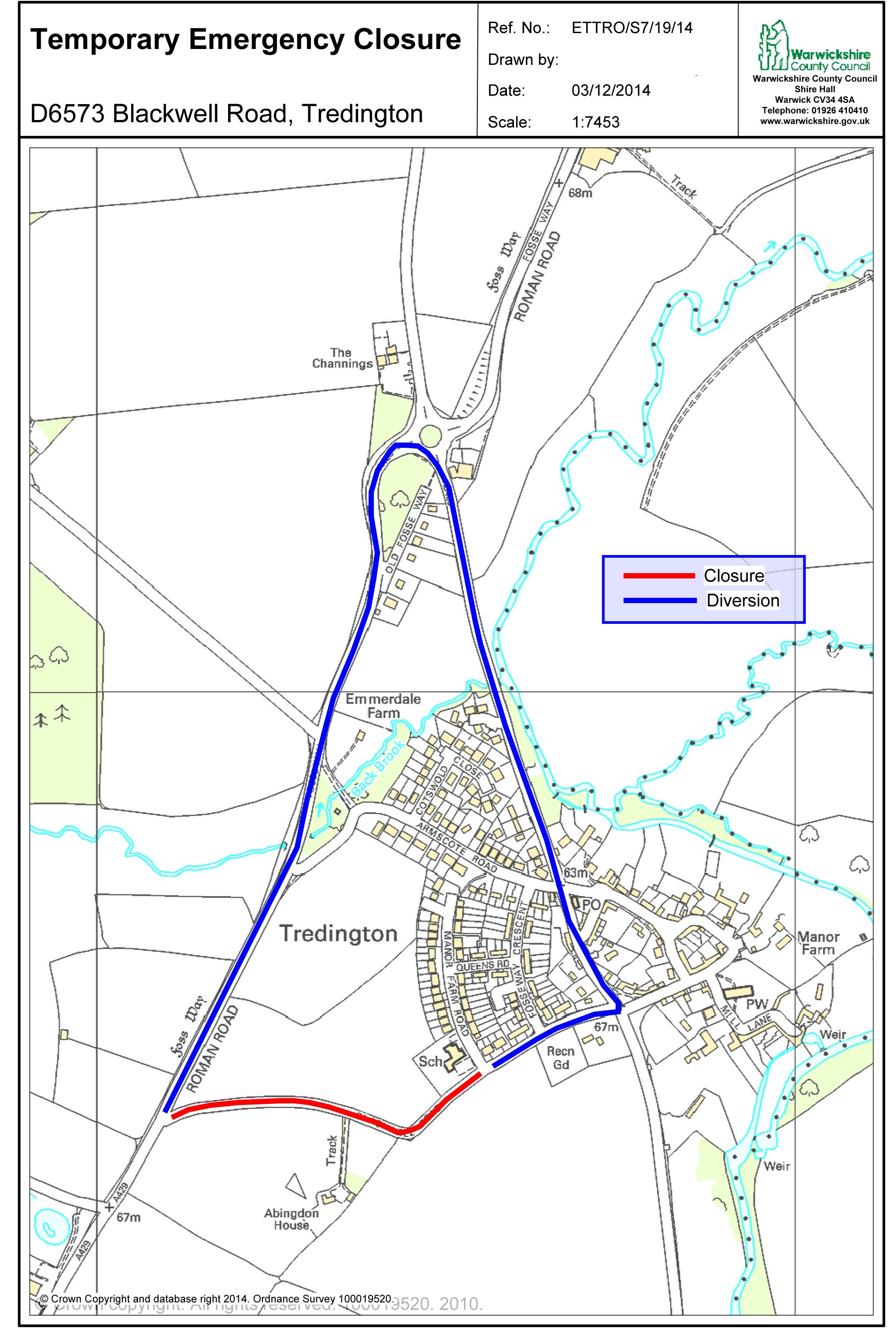 ---
PUBLIC NOTICE WARWICKSHIRE COUNTY COUNCIL
ROAD TRAFFIC REGULATION ACT 1984, SECTION 14
TEMPORARY CLOSURE OF D6569 ARMSCOTE ROAD, TREDINGTON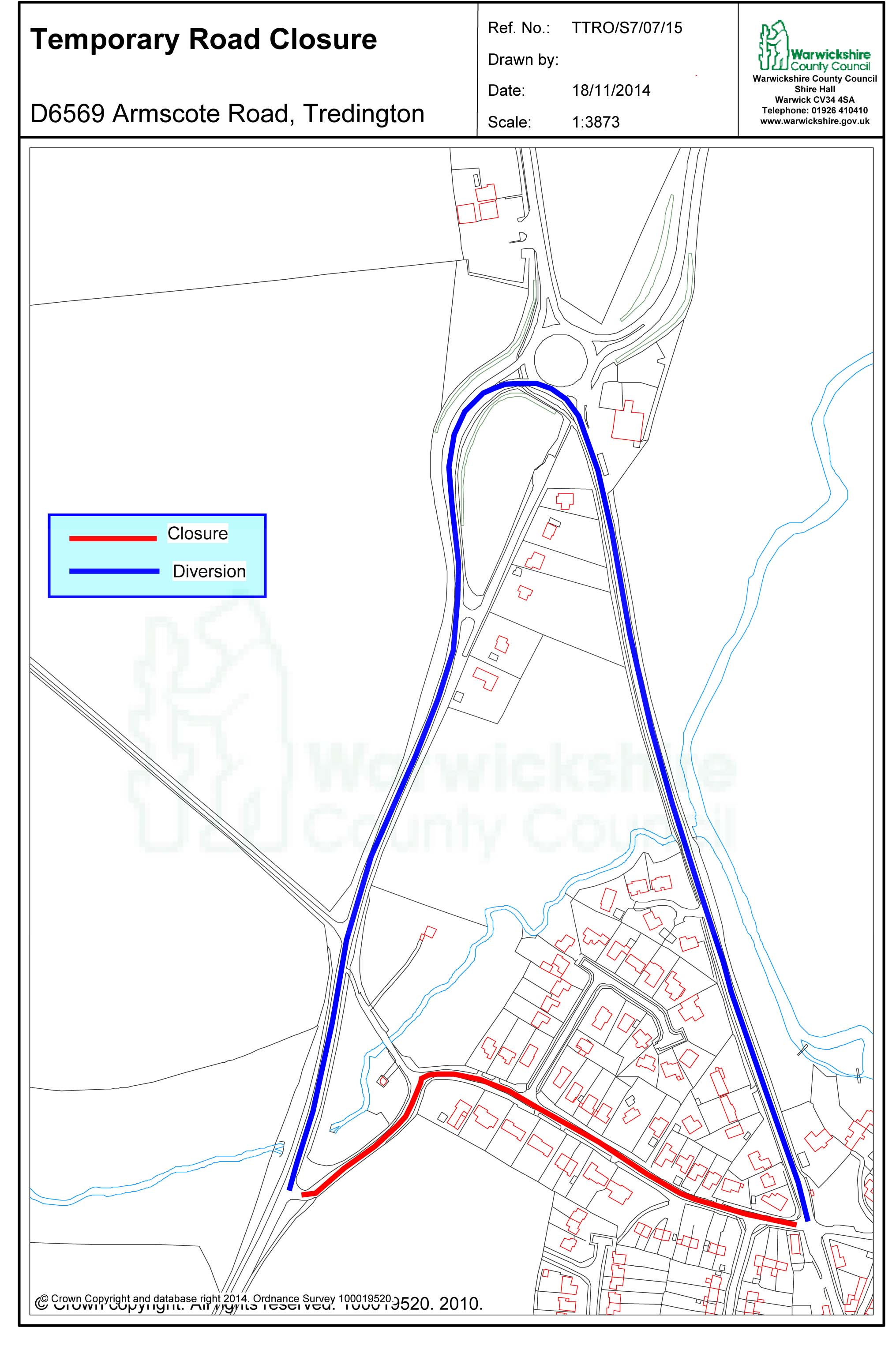 Warwickshire County Council proposes to make a Temporary Traffic Order closing D6569 Armscote Road, Tredington, from A3400 Shipston Road to A429 Fosse Way, to vehicular traffic.
The closure is required for carriageway patching.
The Order will commence on 5 January 2015 and will last for a period of 18 months, or until the works are completed, whichever is the earlier. However, it is anticipated that the works will be completed by 6 January 2015.
Pedestrian access to and egress from properties and land situated adjacent to the length of road to be closed will be maintained at all times. Vehicular access will be maintained where possible.
An alternative route will be signed and is available via: A3400 Shipston Road, A429 Fosse Way (and in reverse order).
The Contractor dealing with this matter is Pete Wills for Balfour Beatty (Tel: 07837 319322).
The Council regrets any inconvenience that may be caused. The person dealing with this matter at Warwickshire County Council is Michael Rogers, County Highways (Tel: 01926 412515).
S Duxbury, Head of Law & Governance, Shire Hall, Warwick, 19 December 2014
---
Ideas for parish council budgetting, community schemes or projects?
During December, the parish council will be developing the budget for spending in the financial year from April 2015 to March 2016. The budget and precept will be agreed at the parish council meeting in January 2015. If you have any suggestions for community projects which may require funding from the parish council during that period, please let the parish council know as soon as possible, so that they can be considered before the budget is finalised in January 2015. For more information, please contact the parish clerk. For a guide on what can be included as communty schemes, see the parish council's policy on grants here: ../images/page_images/TPC_Grants_Policy_Oct2014vers1.0.pdf
---
Do you think that there is a problem with speeding traffic in the parish?
Concerned residents have raised the issue of speeding traffic in certain areas of the parish. The Parish Council is therefore liaising with the local police and considering setting up a community speed watch scheme, whereby we will monitor the speed of traffic at certain hotspots, such as Armscote and the A3400 in Newbold on Stour. If you think that there is a problem with speeding where you live and you would like to be involved in the scheme, please contact the parish clerk. We need a certain number of volunteers for the scheme to go ahead. Please click on the link for more information.Community Speed Watch
---
Each year a large amount of saddlery is stolen across the whole of the country, these items are hard to identify once they have gone and even more difficult for police to reunite found items with their owners. The Shipston area is very rural and we have a lot of horse liveries and stud farms which can be quite vulnerable, especially in the winter months.
Shipston Safer Neighbourhood Team have organised a Tack Marking event which will be held at the Red Wings Horse Sanctuary on the A422 just after the turning for Oxhill. Simply bring along your items and have them marked, then they are not only easily identifiable in future but are also less likely to be stolen at all, because the marking is a deterrent to thieves. There will also be crime prevention advice and tips to protect tack and tack stores.
The session will run from 10am-3pm on 6th December 2014. Please call 01789 444 670 or email PCSO Hayley Ditchburn on hayley.ditchburn@warwickshire.pnn.police.uk to book your place.
---
The questionnaires for the parish plan are now being delivered to all homes in the parish. This is your chance to have your say about what matters to you in the parish. Please fill out the questionnaire and return it so that the parish plan reflects the views of all of the residents in the parish. See the parish plan page for more information.

---
FLOODING
Tredington Parish Council has a small stock of unfilled sandbags to help with flood prevention in the parish. Residents of the parish are able to collect some emply bags from Blackwell and fill them if needed for their own use. Please contact the parish clerk on 01789 450870 for details.
A flood forum for residents of the parish and Shipston has recently been formed. The group has email address for residents to send over any flood related issues to - so that these can be added onto the rolling action plan. It is shipstonareaflood@gmail.com.
---
Warwickshire Community Oil/LPG Syndicate
latest news APRIL 2014
'Warwickshire Community Oil & LPG Syndicate' is rather a mouthful so have changed this to Energy Warwickshire with a dedicated website at www.energywarwickshire.org.uk. Anyone who is interested in cheaper oil can now both sign up and place an order at their own convenience. Thanks to the syndicate we have been able to reduce the price of bulk LPG from an already low 43pence per litre to just 41pence per litre with a £100 fuel discount for new domestic members. And when did you last pay less for your oil in the Winter than in the Summer? Well, that's what our members have achieved over the last couple of months, paying just 51.95ppl in March and less than 50ppl in April. We don't think we shall ever get to grips with how the pricing works but so long as it works in favour of our members we'll not be too worried. Over the last 12 months our members have saved an average of over £52 per 1000 litres against the average market price and a whopping £142 against the market high. How does your oil supplier measure up? People power works!
---
Looking for a New Challenge?
Could you become a Community First Responder?
Ettington Community First Responders are an organisation operating across the Stourdene villages (including Tredington and Newbold on Stour), providing first-response emergency medical care following a 999 call prior to an ambulance arriving. The scheme is run entirely by volunteers and is kept going by the support and fundraising efforts of the local community.
As a result of first responders moving on, we are now looking to recruit new members to our team. So if you'd like to become more involved in your local village community and are interested in joining a team of fun loving but committed volunteers why not apply? You do not need to be medically qualified as full training is provided. If you are interested in finding out more or would like a no obligation chat then please contact us via our email account info@ettingtoncfr.org.uk .
Allotment Gardens in Newbold on Stour
Tredington Parish Council manages the allotment gardens off Middlefield Lane in Newbod on Stour and we have cleared the waiting list for plots, by offering sub-divided plots. If you are interested in renting a plot or part of a plot, please get in touch with the parish clerk, as you will go straight to the top of the waiting list.
Tredington Parish Housing Needs Survey - June 2013
Many thanks to all residents of the parish who took the time to complete the recent Housing Needs Survey. The Parish Council has now received a report on the findings of the survey, undertaken by Warwickshire Rural Communities Council (WRCC). Approximately 640 survey forms were delivered to homes in the parish and 216 completed forms were returned to WRCC. This is considered a good response for a survey of this type.
12 respondents expressed a need for alternative housing in the parish, indicating a current need for a range of housing including two and three bedroomed houses and bungalows provided as local market ownership housing and rented accommodation from a housing association. The respondents in housing need required accommodation in Tredington, Newbold-on-Stour, Blackwell and Armscote.
If you would like further information on the Housing Needs Survey, or your are a resident of the paish and would like to receive an electronic version of the full WRCC report, please contact the clerk (clerk@tredingtonparishcouncil.co.uk). A paper copy of the report can be provided, but a charge will be made to cover printing and posting costs.
---