Parish Council Noticeboard
LATEST NEWS
---
Congratulations to Mrs Michelle Aston who was elected Chair of the Parish Council at the Annual meeting held on 9th May 2016.
---
For regular up-dates on

water levels in the River Stour

, go to https://flood-warning-information.service.gov.uk/station/2045
---
Ettington Community First Responder Scheme is looking for a volunteer co-ordinator. Please click HERE for more information.
---
Tesco bags of help
Tredington Parish Council is delighted to announce it has secured a grant from the above scheme to improve the recreation ground in Tredington
It is confirmed - we have been awarded £8,000 to help improve the playground facilities in Tredington. A big thank you to everyone who voted for our project.
The playground in Tredington is located of Blackwell Road, close to Newbold and Tredington Church of England School. The playground currently provides children's play equipment and areas for ball games, including basketball and football. Tredington Parish Council is currently raising money to up-grade the existing play equipment and provide more facilities suitable for a wider age-range.
For more information, visit www.tesco.com/bagsofhelp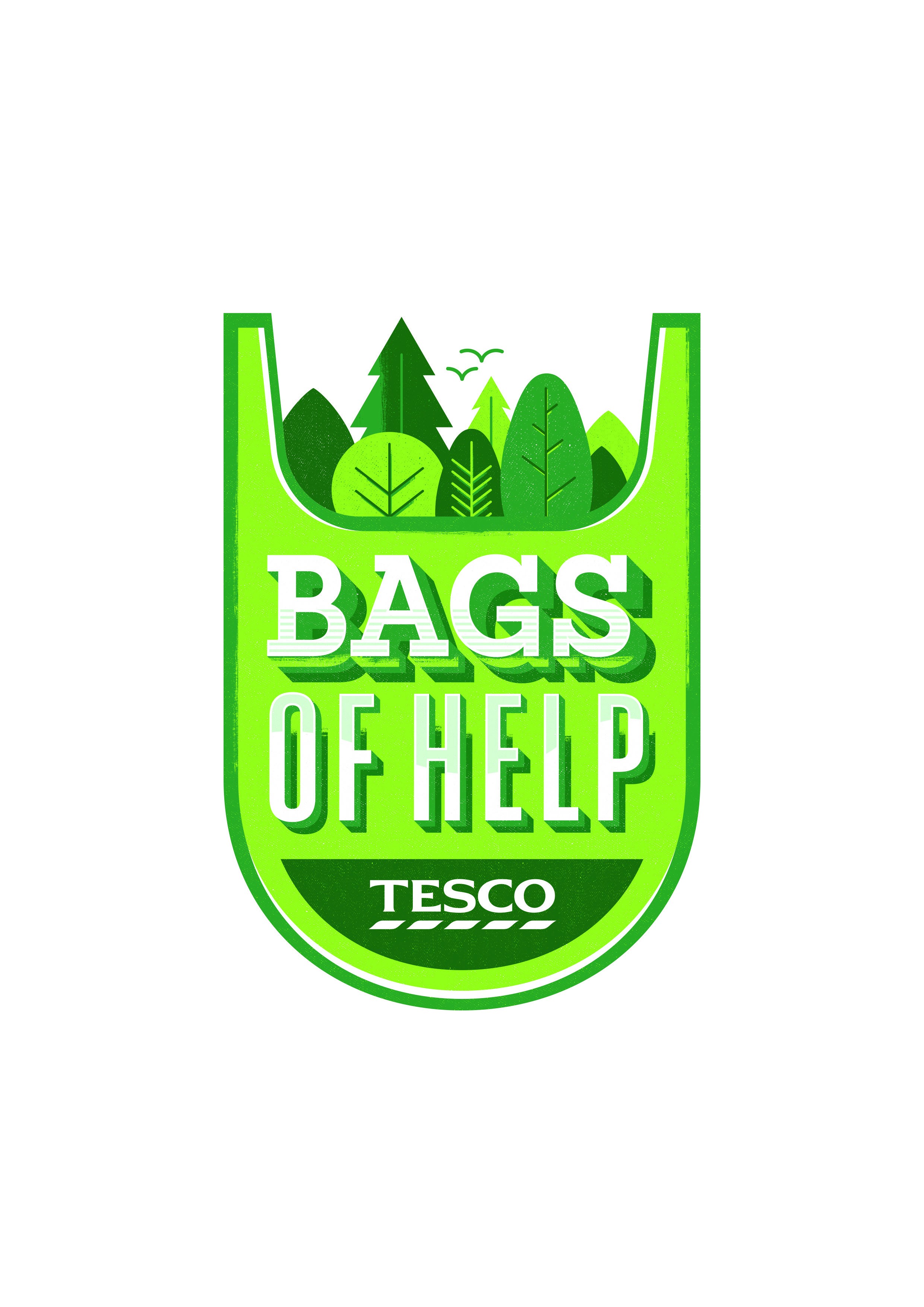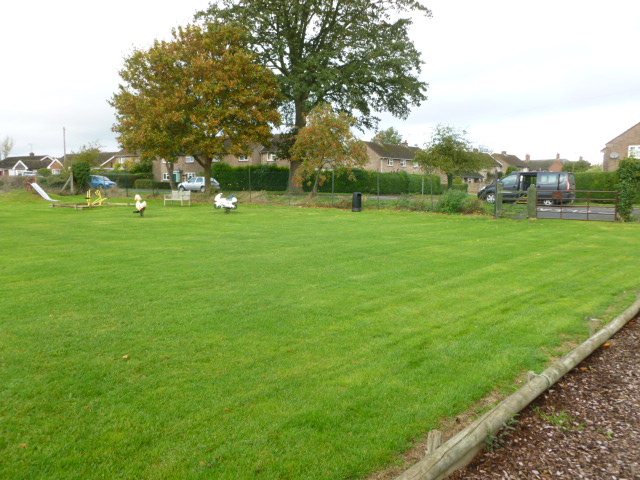 ---
PARISH OF TREDINGTON
---
NOTICE OF VACANCIES ON TREDINGTON PARISH COUNCIL
Following the uncontested election on 7th May 2015, the following parish councillors were elected:
NEWBOLD WARD:
Mrs Michelle Aston
Mrs Sue Bailey - resigned October 2015
Mrs Deborah Williams
Mr Steve Unitt
TREDINGTON WARD:
Mr Nigel Dunn
Mr John Newbery
On 8th June, Mrs Belinda Bayes was co-opted onto the Council for Tredington Ward. On 12th October, Mark Austin and Paul Clayton were also co-opted, onto the Newbold and Tredington Wards respectively.
The parish council has 11 seats in total and therefore there are currently three vacancies - one in Newbold ward and two in Tredington ward. The parish council therefore invites applications for co-option onto the parish council. This allows new members to join the council without the need for an election.
The parish council works towards improving community well-being and providing better services at a local level by representing the community in local government decision making (including commenting on consultations and local planning applications), providing and maintaining community assets (including bus shelters, litter/dog waste bins, village greens, allotments and Tredington Playground) and liaison on local matters with other service providers (such as Warwickshire County Council, Stratford District Council). The parish council holds regular meetings: ten ordinary meetings, an annual general meeting and a parish assembly every year. Meetings are usually held on the second Monday of the month (except in August) at 7.30pm at the School in Tredington and are open to the public to observe proceedings. Extraordinary meetings are held from time to time to deal with urgent matters, such as commenting on planning applications within district council deadlines.
The parish council has a lot of work in the future, including:
· facilitating the implementation of the soon to be published parish plan which will set out the aspirations of the local community;
· commenting on local planning applications and representing the community in planning matters (including promoting the provision of housing that meets the need of local people);
· supporting the development of a neighbourhood plan so that we can better influence the type and scale of development and its location within the parish; and
· monitoring and promoting the provision of local services during times of continued budget cuts.
If you have a couple of hours to spare a week and would like to become involved in representing your community in these important matters, please consider joining the parish council. As a councillor, you can become a voice for your community and affect real change.
If you wish to apply for co-option, please submit a brief CV with a covering letter explaining why you wish to become a parish councillor and what skills you will bring to the council to the Parish Clerk at the above address. For further information or an informal chat, please contact the Clerk or any of the current parish councillors or visit www.WALC.org.uk.
---
Mud Hut, Newbold on Stour
The mud hut, as it is locally known, is a grade 2 listed cob and thatch building, thought to be an old drover's hut. As it is located on the village green in Newbold, it is included on the parish council's asset register. The parish council has in the past asked locals to consider ideas for how the small building could be used and become a community asset, however there has been little response.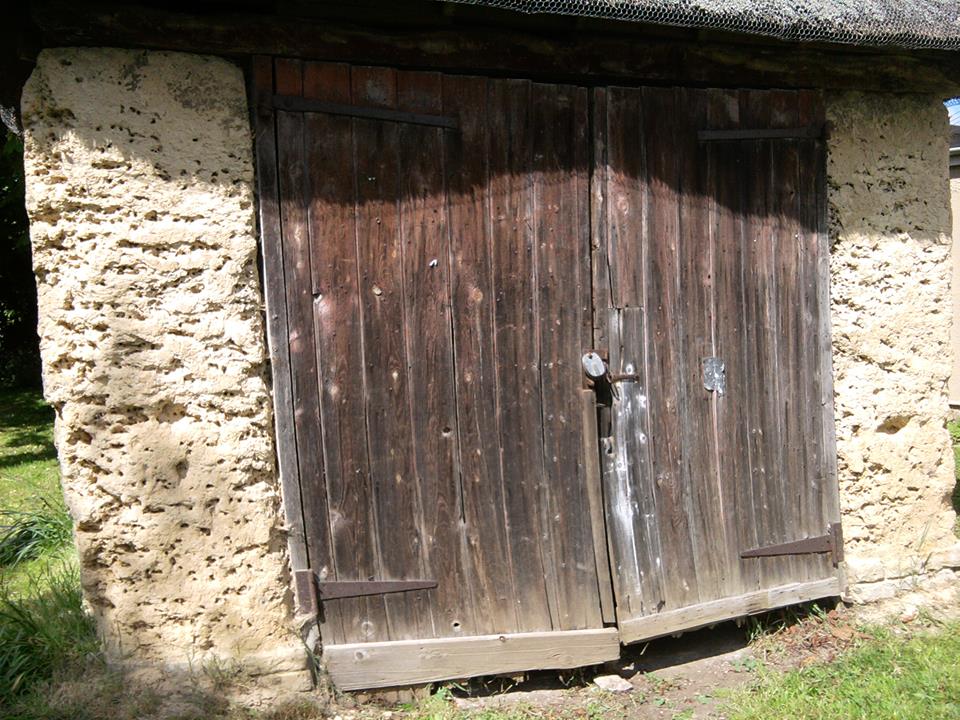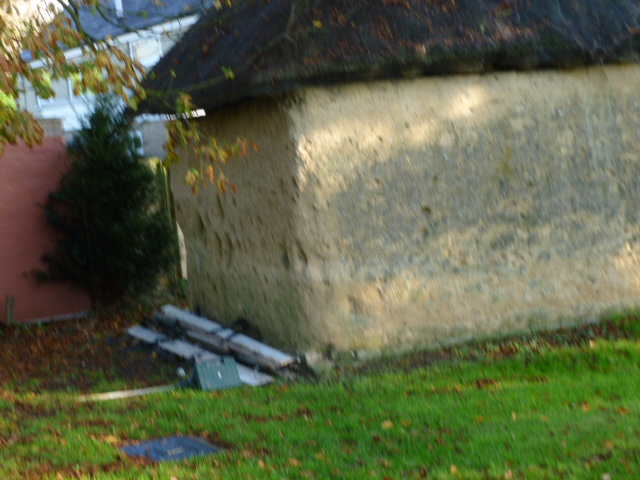 The building is in urgent need of re-thatching and other maintenance and therefore the parish council is looking at a considerable bill (in excess of £5,000) to undertake the necessary works. Therefore, the council would be interested to know whether parishioners would have ideas for using and maintaining the building and whether increasing the precept to cover the cost of necessary works is acceptable. The council would be very pleased to hear from anyone with an interest in historical buildings who may be willing to research this interesting feature of Newbold or if a local group would be interested in taking over this building. Please let us have your views and suggestions : clerk@tredingtonparishcouncil.co.uk.
---
Information About the Council
if you would like information about the parish council, browse the pages of this website for minutes, agendas, recent planning applications and other information which may be of interest. If you would like further information, please click on the link below and check the council's publications scheme for details of what information is routinely published by the parish council and how to obtain it. Please note that some charges apply.
Tredington PC_Publications Scheme
---
Ideas for parish council budgetting, community schemes or projects?
During December, the parish council will be developing the budget for spending in the financial year from April 2016 to March 2017. The budget and precept will be agreed at the parish council meeting in January 2016. If you have any suggestions for community projects which may require funding from the parish council during that period, please let the parish council know as soon as possible, so that they can be considered before the budget is finalised in January 2015. For more information, please contact the parish clerk. For a guide on what can be included as communty schemes, see the parish council's policy on grants here: ../images/page_images/TPC_Grants_Policy_Oct2014vers1.0.pdf
Last year (financial year ending March 2015), the parish council raised a precept of £20,000 (including council tax grants) and spent £20,059, as detailed in the list of paymentst below. If you would like further information on the parish council's finances, budgets or expenditure, please contact the Clerk. Click here to see the annual governance statement or on Internal Auditors Report to see the report from our internal auditor for financial year ending 2015.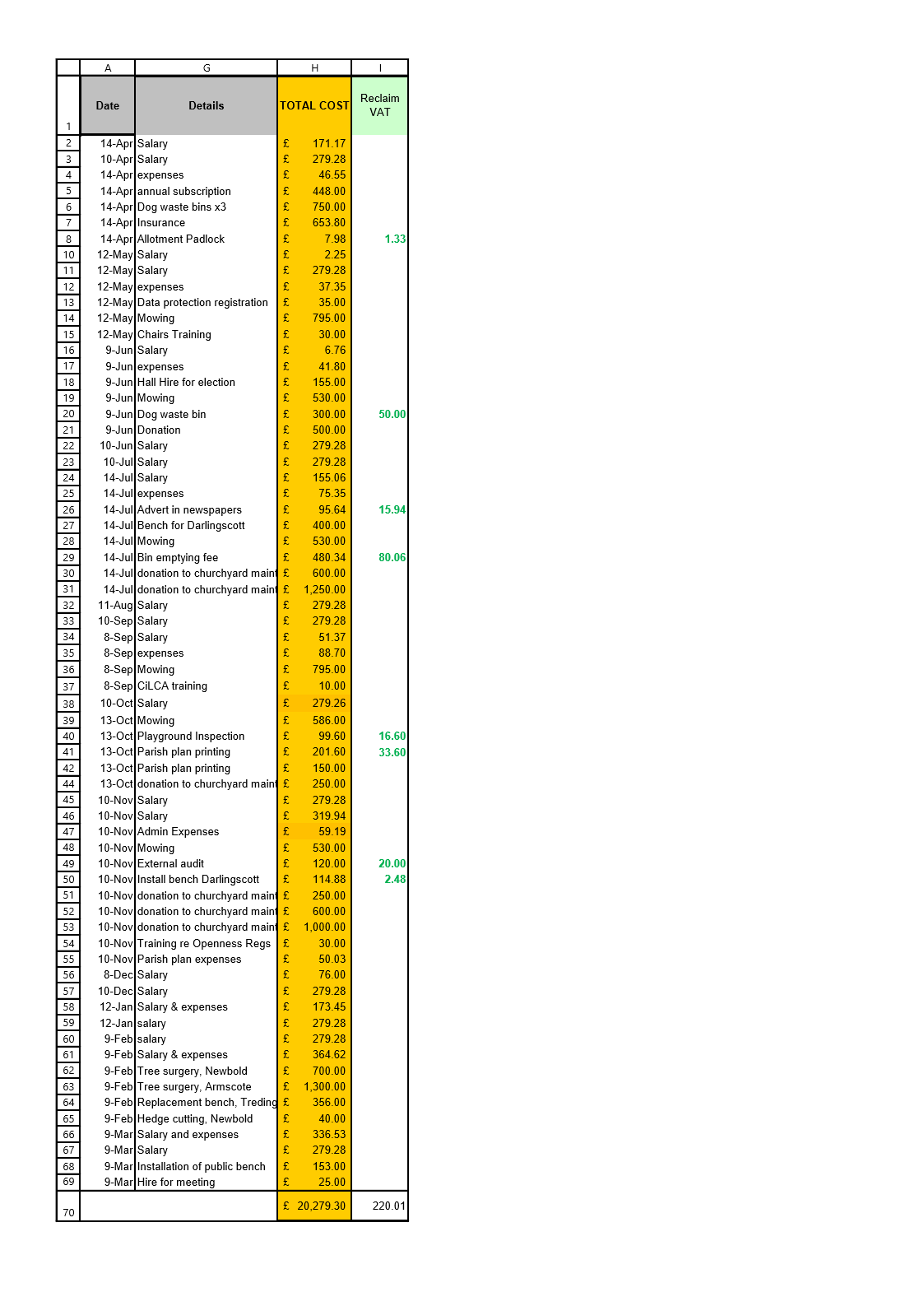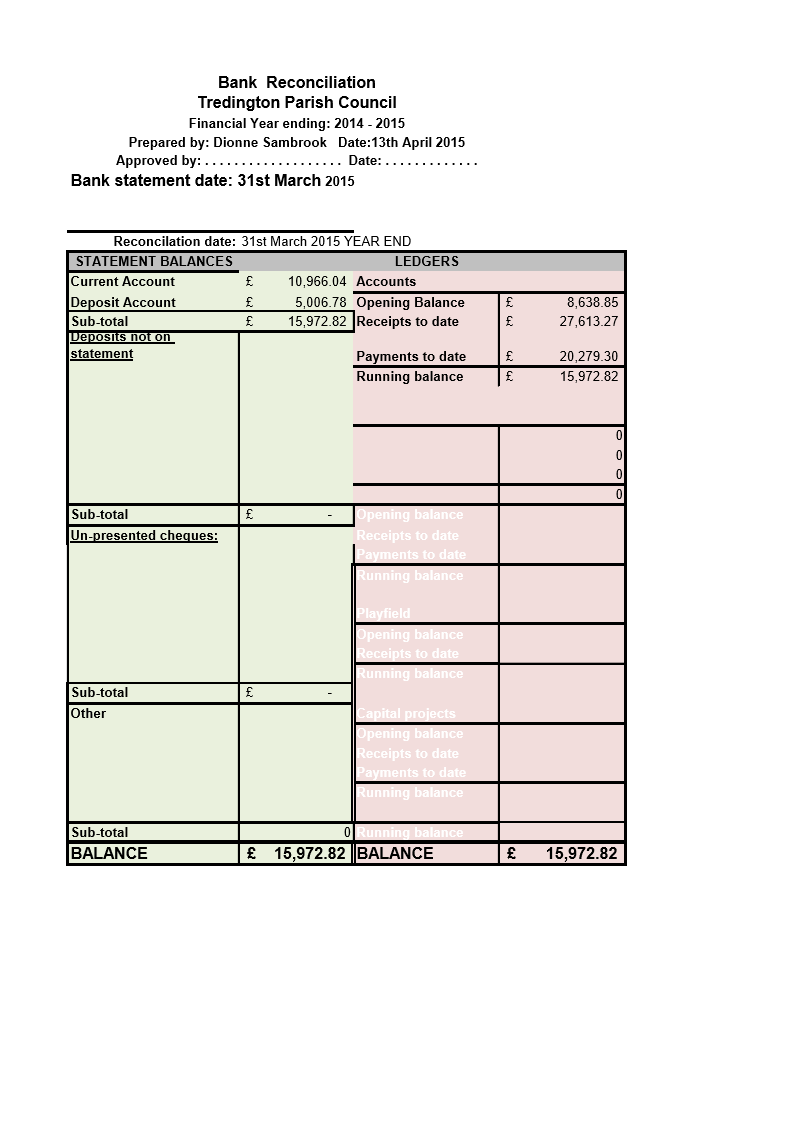 ---
Do you think that there is a problem with speeding traffic in the parish?
Concerned residents have raised the issue of speeding traffic in certain areas of the parish. The Parish Council is therefore liaising with the local police and considering setting up a community speed watch scheme, whereby we will monitor the speed of traffic at certain hotspots, such as Armscote and the A3400 in Newbold on Stour. If you think that there is a problem with speeding where you live and you would like to be involved in the scheme, please contact the parish clerk. We need a certain number of volunteers for the scheme to go ahead. Please click on the link for more information.Community Speed Watch
---
FLOODING
Tredington Parish Council has a small stock of unfilled sandbags to help with flood prevention in the parish. Residents of the parish are able to collect some emply bags from Blackwell and fill them if needed for their own use. Please contact the parish clerk on 01789 450870 for details.
A flood forum for residents of the parish and Shipston has recently been formed. The group has email address for residents to send over any flood related issues to - so that these can be added onto the rolling action plan. It is shipstonareaflood@gmail.com.
Allotment Gardens in Newbold on Stour
Tredington Parish Council manages the allotment gardens off Middlefield Lane in Newbod on Stour and we have cleared the waiting list for plots, by offering sub-divided plots. If you are interested in renting a plot or part of a plot, please get in touch with the parish clerk, as you will go straight to the top of the waiting list.
Tredington Parish Housing Needs Survey - June 2013
Many thanks to all residents of the parish who took the time to complete the recent Housing Needs Survey. The Parish Council has now received a report on the findings of the survey, undertaken by Warwickshire Rural Communities Council (WRCC). Approximately 640 survey forms were delivered to homes in the parish and 216 completed forms were returned to WRCC. This is considered a good response for a survey of this type.
12 respondents expressed a need for alternative housing in the parish, indicating a current need for a range of housing including two and three bedroomed houses and bungalows provided as local market ownership housing and rented accommodation from a housing association. The respondents in housing need required accommodation in Tredington, Newbold-on-Stour, Blackwell and Armscote.
If you would like further information on the Housing Needs Survey, or your are a resident of the parish and would like to receive an electronic version of the full WRCC report, please contact the clerk (clerk@tredingtonparishcouncil.co.uk). A paper copy of the report can be provided, but a charge will be made to cover printing and posting costs.
---