Local Information
Who to contact: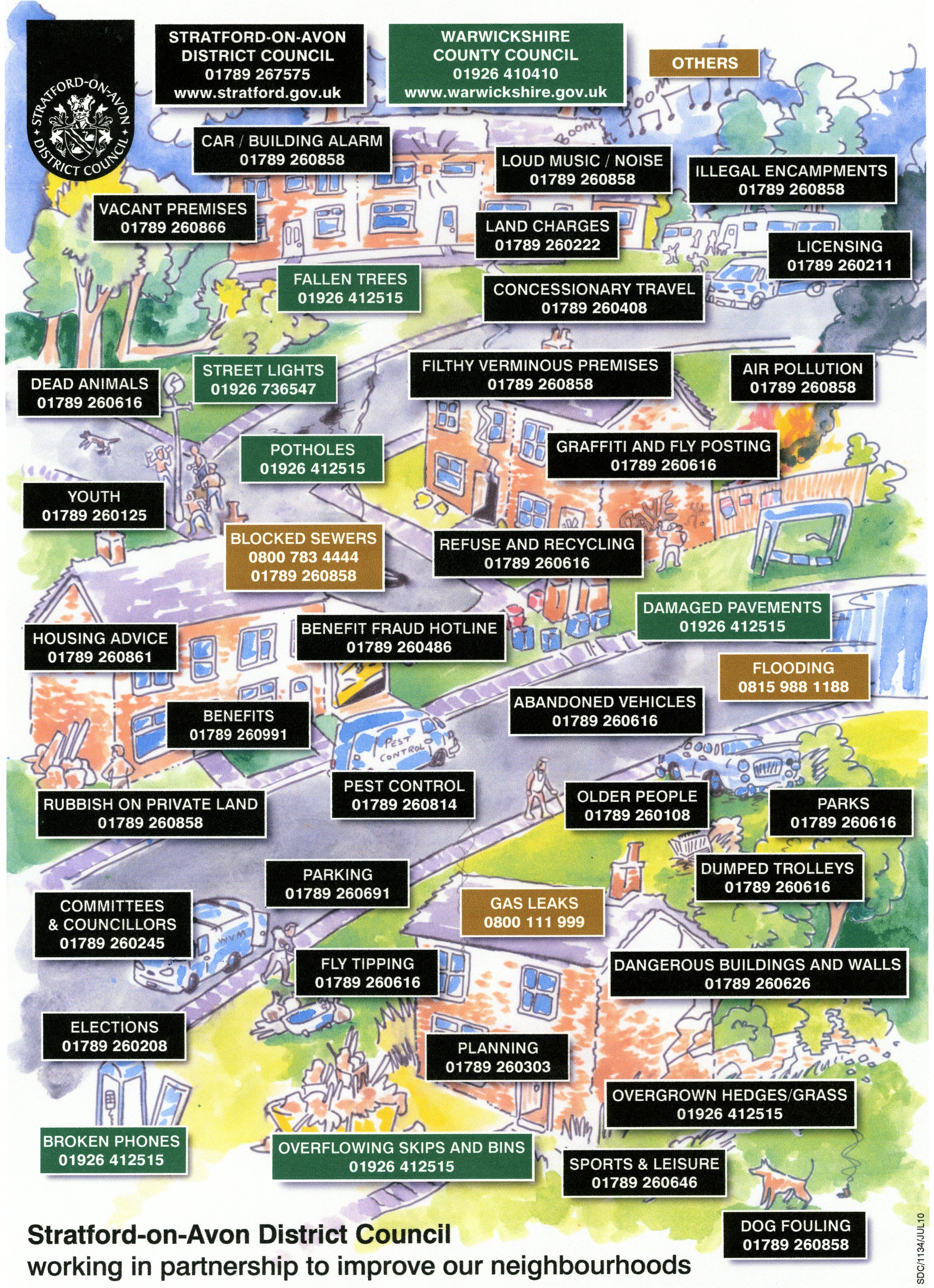 ---
For information on the roll out of superfast BROADBAND, please visit the CSW Broadband site and subscribe to their newsletter : http://www.cswbroadband.org.uk/contact-us/subscribe-to-email-newsletter
---
POLICE and SHIPSTON SAFER NEIGHBOURHOODS TEAM
Latest newsletter from the local community policing team: http://www.safer-neighbourhoods.co.uk/your-neighbourhood/stratford-district/shipston/newsletter/
To receive messages and alerts from the police, visit https://www.warwickshire.police.uk/cms Signing up is easy and will only take a few minutes. The new service and new format have lots of new features and allow you to decide what messages you receive and when.
Click here to visit the Safe in Warwickshire Partnership website for news and up-dates
---
SDC MOWING CONTRACTOR
For information on when the verges within village boundaries are due to be mown, please follow the following link:
http://www.thelandscapegroup.co.uk/stratford-on-avon-district-council/maintenance-rounds
---
BAD WEATHER INFORMATION
For information on flooding, visit http://www.environment-agency.gov.uk/homeandleisure/floods/default.aspx
For information on snow and ice, see www.direct.gov.uk/snowcode.
Information on gritting and forecasts, including maps of the primary gritting routes in the county can be seen at www.warwickshire.gov.uk/gritting
---
PUBLIC TRANSPORT
For information on local bus services, including the Shipston Link rural bus service, go to http://www.warwickshire.gov.uk/buses
The Shipston Link Bus service now have a new Web-Site www.shipstonlink.co.uk which, in addition to general information, and an ongoing appeal for volunteer drivers, has comprehensive Time-Table information of each of our Services to the villages and towns in our area.
April 2014: Important changes to the Community Links service
From Monday 7 April 2014 the Community Links service will operate on a zoned basis. Users from different parts of Stratford District will be able to use the service on specific days of the week. Many long-term users will remember that this was the basis of the service when it first started.
Residents of the Stratford-upon-Avon Zone, including Stratford Town, Tiddington and Alveston, will be able to use the service every weekday.
Residents of the West Zone, including Alcester, Bidford, Studley and Tanworth-in-Arden will be able to use the service on Tuesdays, Wednesdays and Fridays.
Residents of the South Zone, including Quinton, Shipston-on-Stour and Tysoe, will be able to use the service on Mondays, Wednesdays and Thursdays.
Residents of the East Zone, including Kineton, Southam and Wellesbourne, will be able to use the service on Mondays, Thursdays and Fridays.
Further changes will be happening when the Community Links service is replaced by a new transport scheme after Monday 2 June 2014. More details will be released about this shortly. For any queries about the zones and days and the new transport scheme please contact Community Links on 01789 264491.
---
LIBRARIES
Shipston Library Opening Times
Monday 09.30 - 13.00 and 14.00 - 17.00
Tuesday 09.30 - 13.00 and 14.00 - 19.00
Wednesday closed
Thursday 09.30 - 13.00 and 14.00 - 19.00
Friday 09.30 - 13.00
Saturday 09.30 - 12.30
Sunday closed
If you know someone who enjoys reading books or listening to audio books but cannot get out to the library, they may be able to use the Library Home Delivery Service or the Mobile Library Service. This is a free service for rural households. Ring 01926 851031 for more information.
---
Warwickshire police have issued a new non-emergency number: 101. This does not replace 999 which should always be used in an emergency. 101 can be used to contact the police in non-emergency situations.
PC Andy Steventon from the Shipston team, has the following message regarding Doorstep Traders:
"Following reports of people trying to sell items at the doorstep in the Shipston area without a peddlers licence please find the below information on how to prevent yourself from becoming a victim of potential crime.
Door to door pedlers. The Rules.

A pedlars certificate is a certificate that allows a person to trade (often selling trinkets, household goods and other hand made objects) whilst on foot. Pedlars can travel from:
• door to door
• place to place, or
• town to town.
It is the means by which a pedlar trades that distinguishes a pedlar from a licensed street trader. The means of a pedlar are mobile, whereas the means of a street trader are static (i.e. they have a fixed stall).

A pedlars certificate once issued can be used anywhere in the United Kingdom. The "pedlar" cannot set up a fixed pitch from which to trade, but rather moves around acquiring custom.
A pedlar's certificate is obtained from the chief of police from the area where they live. Those who require a certificate need to attend their local police station with two forms of identification, one with a photograph and the other showing an address where they have lived at for at least 28 days within the district they are applying for the licence. They must be aged over 17 to apply for a certificate. The police need this information to check their identity and that they are of good character before issuing a certificate. The cost of the licence is currently £12.25.
Please note that having a pedlar's certificate is in no way an indication that the goods for sale are of merchantable quality.
The 'Door Knockers' that have recently been operating in the Alcester Area have not satisfied any of the above rules and have created their own identification and reasons for going door to door.

They are known as 'Nottingham Knockers' after a scam which originating in Nottingham. They knock at doors and claim to be ex-convicts attempting to mend their ways, before trying to sell the householder everyday household products at very high prices. There is currently no such scheme running in our area for 'ex-convicts' to sell door to door. We are extremely keen to track down and speak to any door to door pedlar's that are visiting our area, so if you see or have a visit from such people, please give us a call on 101."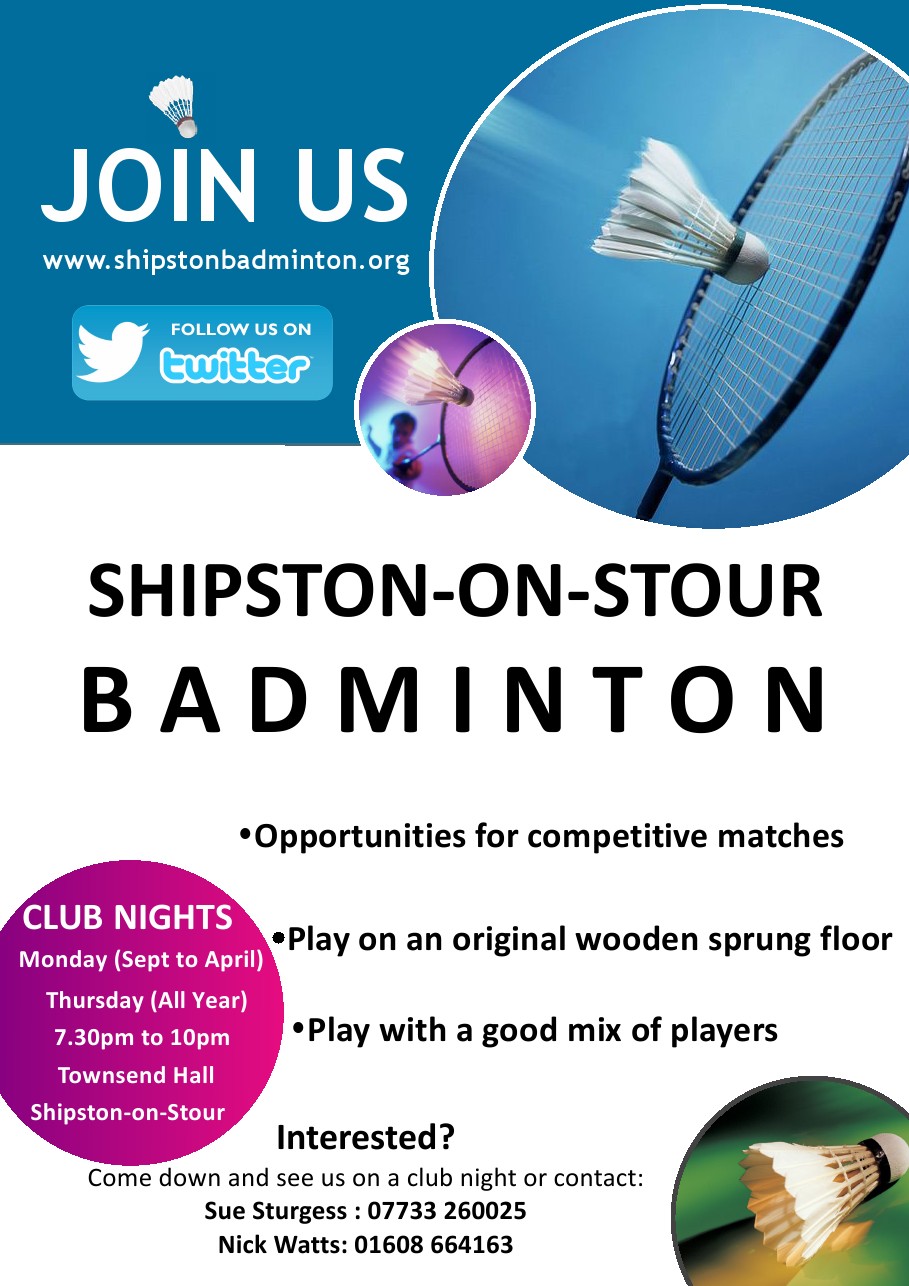 ---
Open (almost) all hours by Adrian Wakeham
If you say "Steve", most people in Newbold on Stour will know who you are talking about, add Jas and Harry into the conversation and everyone knows you're talking about the Newbold shop and Post Office.
Steve Johal, along with his wife Jas and son Harry, moved from Birmingham to take over the Newbold store in December 2009. Steve was a business man but had never been a shop keeper before. He felt he was very easily accepted into the local community (a feeling he helped reciprocate when I moved into the village 6 months later). He and his family's happy and smiling manner has helped to make them very popular amongst the village and local area. It was a worry to move to an unknown village and totally new area, but his anxieties were groundless and he got a great welcome.
The shop main sales are papers and magazines, whilst staples like milk, bread and beer are close behind. From personal experience most grocery items can be found if you look hard enough. The shop employs 2 extra staff, Judy and Lorraine. It picks 60% of its trade from locals and the rest in passing trade. Some customers come from as far away as Whatcote. One of the things that pulls in passing trade is the hot food, sandwiches and pastries; some of the latter two are produced on the premises. To produce and sell these, the shop has a achieved a hygiene rating of 5.
When asked the item they stocked, of which he is most proud, Steve replied that he proud of all his stock, but took even more pride in the service the store gives to it's community. The store is the linchpin to village life, giving people a chance to meet, talk and gossip, sometimes the only chance they get to meet. It also helps to advertise local events from plant sales to W.I. dates, the fete and small ads.
Asked for the strangest thing that has been asked for, the response came that, to them nothing is unusual, although they would struggle to source a supply of camels!
For the most memorable things people have turned up to the store wearing. . . after much thought Steve could only come up with "slippers and a nightdress" (come on Newbold, we can do better than that, I'm sure some underwear or a wedding dress are possible!).
Next came the sausage sandwich question. If offered a perfect sausage sandwich, would it be better by adding red sauce, brown sauce or no sauce at all? "No sauce to start with"!
---
HISTORY of TREDINGTON and the HANCOCK FAMILY - A request from Roger Hancock:
"I am putting together a regular newsletter, to be sent out by email around every 2 or 3 months with current research including information on wills and transcripts, interesting stories, queries even blind allies and anything else that might interest Hancock researchers. The newsletter will be of interest to those with research interests in Hancock, Hancocks, Hancox and other derivatives of the name originating in and around around the villages of Tredington, Brailes, Butler Marston Combroke, Ettington, Kineton, Oxhill, Pillerton Hersey, Pillerton Priors, Wellesboune including Walton in South Warwickshire and other areas such as Birmingham, Stratford upon Avon, and villages over the border into Oxfordshire and Worcestershire.

"Recent Hancock research by myself and others has included:-
1. Looking at the 16th and 17th century wills for Hancocks at Pillerton, Brailles and Tredington.
2. Isabella Hancox of Tredington and the Hancocks at Pillerton and her connection to the Hathaway family. She married Bartholomew brother of Ann Hathaway Shakespeare's wife.
3. The early origins of the Hancocks of Oxhill.
4. Early maps of the area.
5. The Hancocks of North West Oxfordshire near Oxhill & Brailes.
5. Newspaper cuttings

"Do you know of anyone interested in the history of Tredington or the researching the Hancocks from Tredington who might wish to receive a copy of this newsletter and / or contribute? If you know of anyone researching the Hancocks of South Warwickshire who wishes to contact me regarding their Hancock family tree that would also be fine."
If you are able to help or require further information, please contact Roger directly on roger@silverdigital.com.